SYRACUSE, NY –BizEventz in collaboration with the CNY Business Journal has announced their list of CNY Best Places to Work.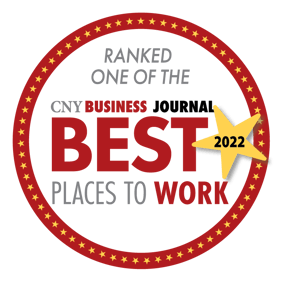 Employees have once again declared ComSource, Inc. among CNY's Best Places to Work. 2022 marks the second consecutive year the company has been recognized with this prestigious honor.

This annual award recognizes the best employers in Central New York and is based upon a confidential employee satisfaction survey created and distributed by Research & Marketing Strategies, Inc. (RMS).

The survey asks for employees' feedback on:
· Job satisfaction
· Company benefits
· Business culture
· Leadership and more
"We are fortunate to have the most professional, collaborative, enthusiastic, customer focused individuals in the industry on our ComSource team," said Mike Fay, President & CEO of ComSource. "They work hard, care, assist each other and truly act as family."
"Our strategic and intentional efforts to make ComSource an exciting and rewarding place to be, where every employee is valued and respected, has enabled our team members to love what they do. When you love what you do, everything else falls into place," said Tracy Stauffer, Chief Financial Officer at ComSource. "Customer satisfaction soars, teamwork flourishes, and positive attitudes abound! The success of ComSource is due solely to our talented and energized employees. We are blessed by their presence."
ComSource Employees offered the following insight as to why they believe their company is a CNY Best Place to Work:
"I'm excited to hear ComSource has been named a CNY Best Place to Work in 2022," said Sarah Morien, Inside Sales Representative at ComSource. "I'm proud to work for a company with such a talented group of people working toward common goals. Our leadership team provides guidance and opportunities for growth and development on both professional and personal levels."
"I'm proud to be part of a growing company that makes you feel like you're family, not just another employee, and was delighted to hear that ComSource has been named one of CNY's Best Places to Work once again," said Peter Zalla, Contracts Administrator/Maintenance Renewal Specialist. "I believe the friendly, people-first, team-oriented work culture at ComSource encourages us to not only meet but exceed the expectations of our valued customers."
"There is no question that working here is the epitome of being part of a team," said Rick Dillon, Customer Solutions Architect at ComSource. "It seems like every aspect of the organization is geared around a true soup-to-nuts approach to customer satisfaction. From planning to purchase to install to ongoing support. It is 100% focused on the customer. It is both refreshing and rewarding to see, and be part of that level of commitment."
ComSource, Inc.
ComSource is an enterprise IT solutions and service provider that has been operating in Central New York for more than 30 years. When the COVID-19 crisis hit, ComSource was able to quickly adapt to the changing business landscape and its customer needs, a critical factor in its success in 2020. The company developed and connected clients to a variety of work-from-home solutions. It also connected customers with health and safety-related technology to aid their reopening efforts. This includes facial recognition and temperature scanning software from standalone kiosks, storage units that disinfect laptops while they charge, and digital signage to relay important information or alerts to customers. Additionally, ComSource opened a new state-of-the-art headquarters in Franklin Square, created several new positions while retaining existing employees, and contributed to 23 philanthropic efforts, including the Jim & Juli Boeheim Foundation.