SYRACUSE, NY – CenterState CEO held its Annual Meeting, virtually, focused on the theme Commit: Progress through purpose-driven leadership.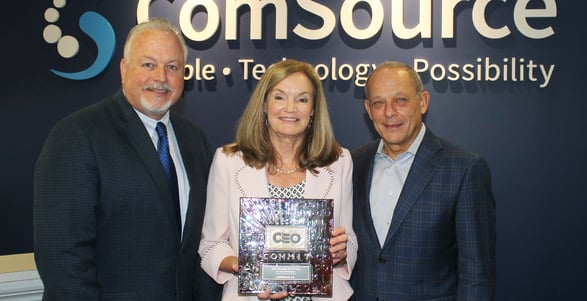 The event called on the business community to lead with intention and commit to greater community consciousness to achieve economic growth, equitable prosperity and positive social change. In his message, CenterState CEO President Robert Simpson spoke about the challenges faced by the community as the result of the COVID-19 pandemic and how, following a year of disruption, there are promising signs of recovery.
"We are beginning to see signs that we are approaching a turning point in our economic recovery. Unemployment has dropped from record highs at the height of the pandemic, the pipeline of projects is beginning to fill quickly, and perhaps more importantly, a sense of hope and optimism about our region's recovery is returning," said Simpson. "And yet, not everyone across our community is seeing this positive momentum, with many still experiencing the impacts of the past year's economic crisis. As community and business leaders we must commit to accelerating our progress well beyond where we were in early 2020. Through purpose-driven strategies we cannot only grow, but grow better, and in a way that embraces a more inclusive, equitable, and fair future for our entire community."
CenterState CEO also announced its Business of the Year award winners at the event, recognizing the outstanding achievements of regional businesses and organizations. This year's recipient in the category of "Under 50 Employees" was ComSource, Inc.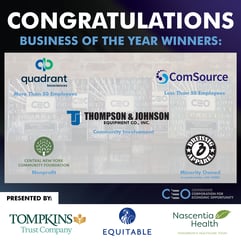 ComSource, Inc.
ComSource is an enterprise IT solutions and service provider that has been operating in Central New York for more than 30 years. When the COVID-19 crisis hit, ComSource was able to quickly adapt to the changing business landscape and its customer needs, a critical factor in its success in 2020. The company developed and connected clients to a variety of work-from-home solutions. It also connected customers with health and safety-related technology to aid their reopening efforts. This includes facial recognition and temperature scanning software from standalone kiosks, storage units that disinfect laptops while they charge, and digital signage to relay important information or alerts to customers. Additionally, ComSource opened a new state-of-the-art headquarters in Franklin Square, created several new positions while retaining existing employees, and contributed to 23 philanthropic efforts, including the Jim & Juli Boeheim Foundation.
Watch ComSource's video from the CenterState CEO awards ceremony here: