In 2013, Kari was attacked and killed in a Texas hotel room. During the attack, Kari's daughter dialed 911 four times to no avail. Little did she know, the hotel required guests to dial "9" before reaching an outside number. The FCC and Congress enacted "Kari's Law" to have multi-line systems allow for direct dialing of 9-1-1 without any pre-extensions. In February 2020, the law went into effect nationwide. Here is what Information Technology managers need to know about "Kari's Law" for their organizations.
Most people take for granted that their phone system will function properly when an emergency happens and their call will be routed to first responders. Unfortunately, after working in the industry for many years I have seen numerous cases where the system did not perform as expected or needed. This has led to incorrect address information being presented to the 911 center or even worse, a busy signal. Any delay in these types of situations can lead to serious liability and ramifications for your business, and customers.
I have always felt that emergency response should be reviewed regularly and tested even more often. If this philosophy has not been embraced by your organization, these new and upcoming federal mandates should make you re-examine your systems and processes. Here are the new requirements for your organization's phone systems: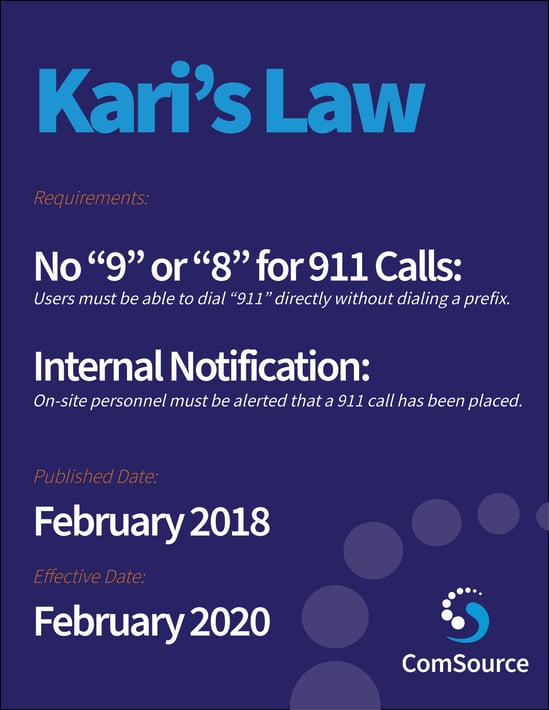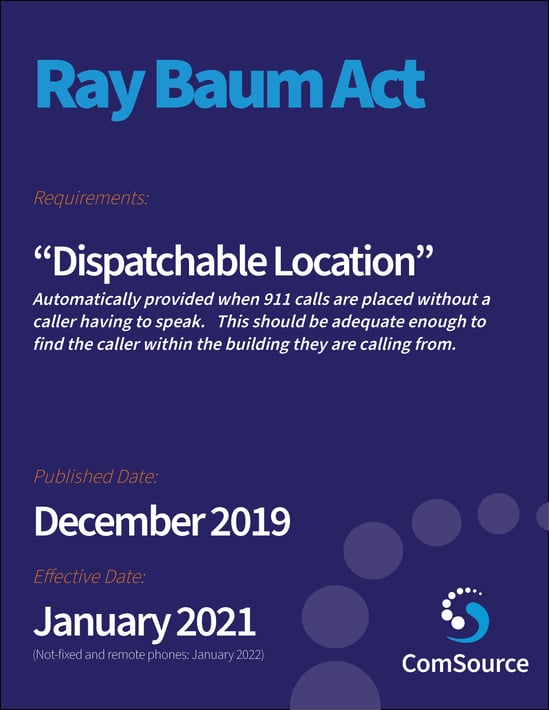 After reviewing these guidelines, you should ask yourself:
Who in my organization is responsible for emergency service?
When is the last time we have reviewed our emergency procedures?
When is the last time we have tested our emergency procedures?
Can I dial 911 directly, without an '8' or '9'? Have we tested that from all locations?
If a 911 call is placed right now, how are my internal first responders being notified?
If a 911 call is placed right now, will first responders know how to reach the caller or would they only know the building address?
The effort required to meet these guidelines will vary by organizations based on a few factors including the age of your infrastructure, existing 911 policy, geography, and internal skill set.
To help offset some of your internal constraints ComSource has a team of experts that are able to assess your current environment and develop a path to meet compliance. Our team is also able to tell you if you need to invest in additional products or if there are features in your existing system that can be leveraged.
At the time of this posting, Kari's Law is already in effect. If your organization is not already in compliance please reach out today to discuss it with our team.