Dear Valued Customers, Employees, Partners and Community,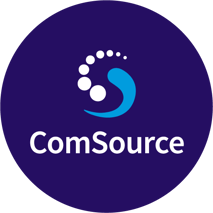 We here at ComSource hope that you and your families are healthy and safe during this pandemic crisis. A heartfelt thank you goes out to all of the brave healthcare workers and first responders that are working so tirelessly to protect us. Our business has been defined as an essential business and as a result, some of our employees are working on projects at customer sites and are taking all of the necessary safety precautions.
As an information technology company, 100% of our employees were already enabled to work from home, with defined processes to make the transition seamless for our customers and easy for our employees. We are committed to following the CDC guidelines and are using Cisco WebEx technology to communicate with each other, our customers and our partners. Many of us are using this technology to communicate with loved ones as well.
ComSource is also working hard to support our communities during this crisis. We have partnered with a hospital to provide them with iPads, iPhones and Android devices for patients to use to communicate with family members that cannot visit them in the hospital. This type of activity makes a tremendous difference in patient lives, and quite frankly, our employees are energized to be able to help others.
Many of our customers are in the state and local government, education and healthcare industries, which have been particularly impacted by this pandemic. We cannot thank them enough for their tireless efforts to keep us safe and healthy. They still have information technology needs to be addressed. Many of them are struggling with security concerns, data protection, remote employee technology solutions and network challenges. We are offering to provide them with solutions at our company cost in an effort to support them during these challenging times.
We are committed to continuing to provide essential products and services to support businesses, as well as to assist with the health and safety of the businesses and communities we serve. All of our employees have been well instructed on practicing personal hygiene, social distancing and all of the recommendations made by the CDC. We are aggressively taking the necessary precautions at all times to protect our customers, business partners, our employees and our communities.
If you would like to speak to one of us at ComSource to discuss any information technology challenges or concerns, please reach out to us via email info@comsourceny.com, phone 315-682-4115, or connect with us on social media @ComSourceNY and www.comsourceny.com.
Please stay healthy and safe. We will get through this.